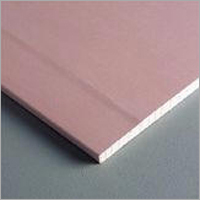 Fire Resistant Gypsum Board
Product Description
With firm commitment to quality, our company is remarkably offering Fire Resistant Gypsum Board at budget friendly prices. This is extensively used for fire security purpose.
Fire Resistant Gypsum Board is durable, economic, sound attenuative, fire resistive, versatile and easy to maintain.
It is made up of building gypsum with fiber, additive and covered with special papers.
This can be used for partitions, wall, ceiling, etc.
Features:

Light
Noted sound insulation
Seamless heat preservation
Shock resistance
Easy to installation
Eye-catching